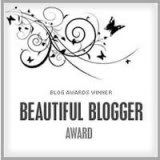 Special thanks to Army Mom's Place for declaring me a Beautiful Blogger! It's my first official blog award, and while it's clear that it is definitely a

chain letter

networking tool, it's still cool, and I accept with full honors. Plus, I think the badge is pretty and I want to put it in my ever growing, suddenly overflowing sidebar.

As with every

chain letter

networking tool, there are rules. And here they are (edited slightly, but the spirit of the

chain letter

award is still there):


Here's what we have to do to own the award:
1.
Thank, then link to the person that gave you the award
2.
Pass this award on to
15
how ever many
bloggers
you want to that
you've recently
(or not so recently)
discovered and who you think are fantastic
3.
Contact said
bloggers
to let them know they've won.
4.
State 7 Things about yourself!
And the award goes to....
7 Things About Me:
I cannot, I repeat: CAN NOT sleep in a bed unless it has been made. Even if I have to make it right before I climb in for the night. Beds must be made or I can not sleep.
I love to shovel snow and I greatly miss doing it. Even though I live in a land of snow and ice, it is just not possible to effectively shovel snow with just one hand. (See

this post

for reference).
I love cats, but I never ever ever ever want to own one of my own.
I am an EMT Basic. For about another 30 days, when my license will lapse - unless a miracle happens and there is a free 24 hour medical refresher happening in my living room sometime in the next two weeks.
When I have a cocktail, I like a Maker's Mark Manhattan, straight up.
I have been to Kathmandu.
Most days I wear yoga pants or some variant of sweat pants. What can I say, they are comfortable.