Last week at yoga class, my instructor and friend, Gloria, provided us with a wonderful treat: Yogi Tea. It is more of a decoction than an infusion, like most teas, but it is wonderfully aromatic and a delight on the palate. Oh yeah - and it's really good for you too! All of the ingredients have wonderful health benefits and medicinal properties. This is a great tea to drink if you are pregnant, as it is very soothing to the digestive system. It has also been known to reduce fever in small children and as an anti-parasitic! Yogi tea tastes good and makes you feel good!
There are many recipes out there, and
THIS
website had a great explanation of Yogi Tea and the benefits of the individual components.
1 gallon water

30

whole cloves

40

cardamom

pods (split the pods)

1 stick

cinnamon

1 t

fennel seed

fresh ginger root

to taste (4" x 1" piece, chopped up - OR less if you grate it)

1 t loose tea: black teas are OK, but I have to recommend

rooibos

, as it low in tannins, is caffeine free, and has excellent health benefits and medicinal properties
The Spices: Cardamom, Fennel, Cinnamon, Peppercorns, Cloves, Ginger
Combine all ingredients except tea in a large stock pot.

Bring to a boil.

Simmer for 30 minutes.

Remove from heat and add tea.

Allow to steep for 5 minutes (you can let it steep longer if you use rooibos tea)

Strain
Sweetened coconut milk or almond milk and honey are a wonderful alternative to traditional dairy creamers.

Chill any unused portion and reheat as needed!
Thank you Gloria, for turning me on to Yogi Tea! I love it and so does Ophelia! She had some with her afternoon snack today!
ABOUT GLORIA
:
I met Gloria when I was pregnant with Rowan. She brought her younger son, Jasper, to a Mommy and Me Yoga class that I was taking at The Bozeman Public Library and when the class ended, she gave me one of her brochures for Blissful Bellies Prenatal Yoga. After just one class, I was hooked. Kundalini Yoga is so wonderful and Gloria is an amazing teacher. I did yoga with her right up to the day before I delivered Rowan. I highly recommend it for anyone who is pregnant! I am now taking informal postnatal classes with her as she completes her teacher training, and once a month she is teaching Child Yoga to our Attachment Parenting group.




You can call Gloria at (406) 595-2547 to inquire about her classes or email her at blissfulfamilyyoga@gmail.com."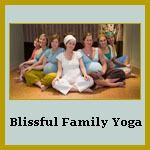 "M
ay the long time sun
Shine upon you,
All love surround you,
And the pure light within you